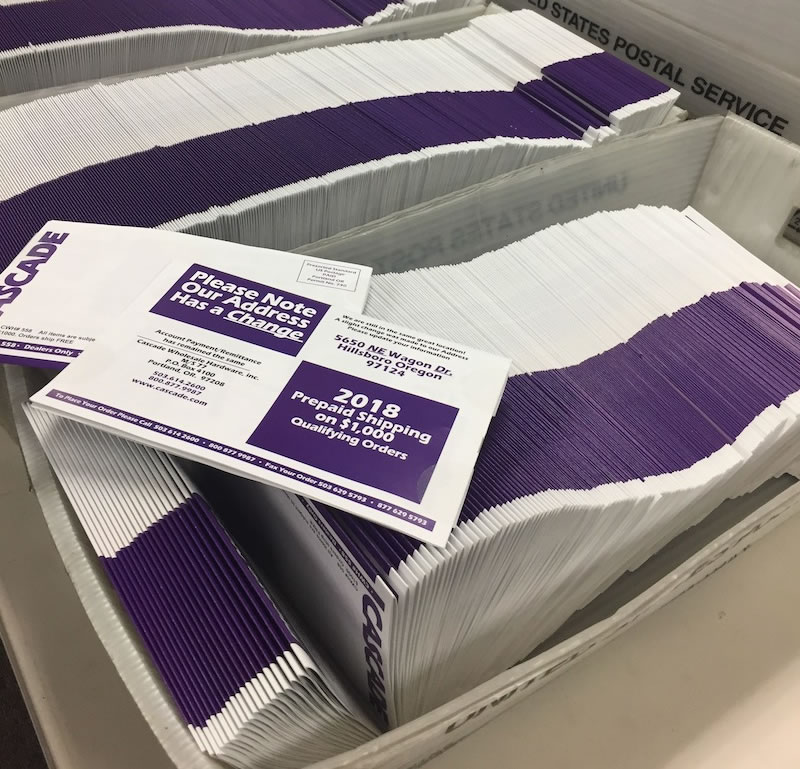 03 Feb

3 Tips for Better Mailing Lists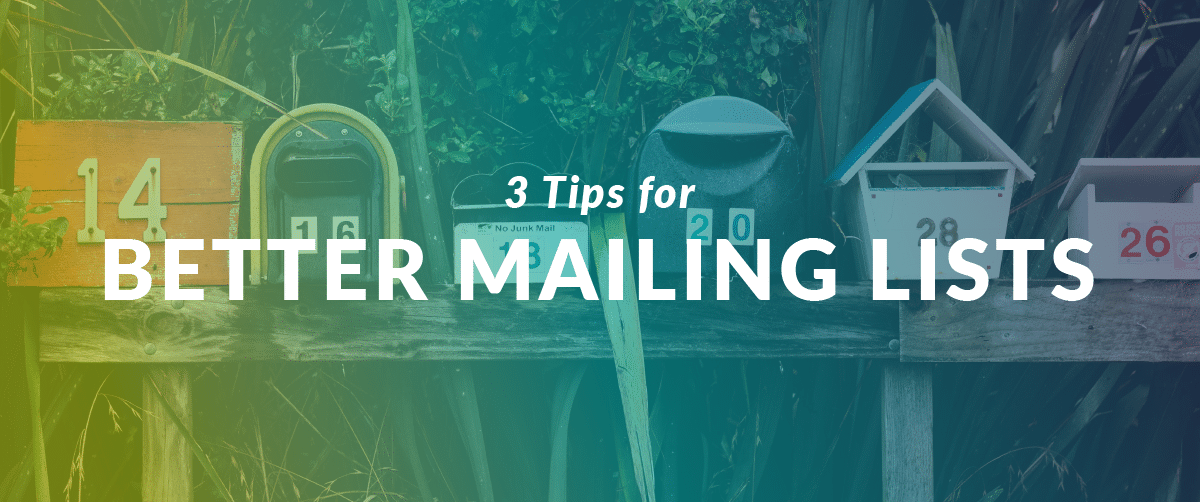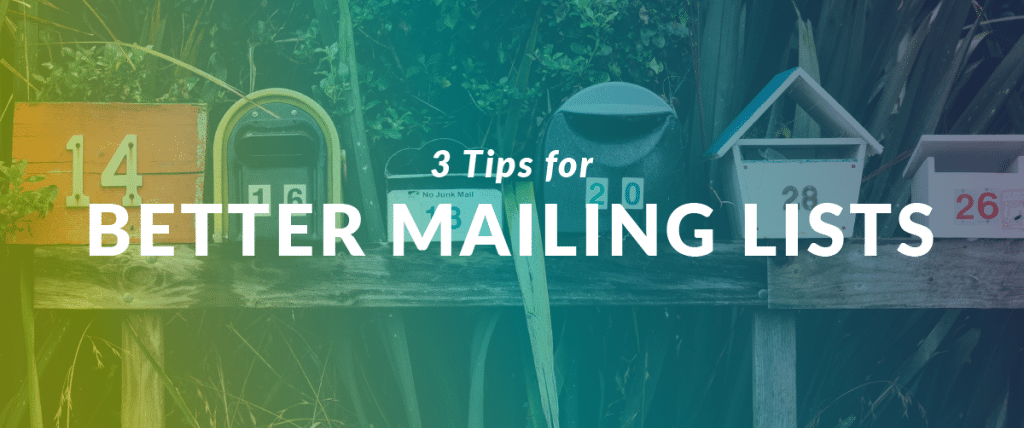 3 TIPS FOR BETTER MAILING LISTS
Better mailing lists – every marketer & developer wants them. 
An often-overlooked aspect of mailing projects, your mailing list is a vital piece of the puzzle. Before you decide on the message of your piece, how it will be made, or even what type of mailing you'll do, you need to know who you are sending to, & what data you have to work with. 
We help businesses and non-profits navigate the murky mailing waters, & have been for over 20 years. In that time, we have seen a lot of good (& a lot of not-so-good) mailing lists. There are a few issues that keep popping up over & over that can be easily solved. 
Here are our top 3 tips for better mailing lists to keep in mind when planning your next mailing project!
Tip #1 – Know Your End Goal.
The first step to any successful mailing project is to define your goal. What are you trying to accomplish with your mailing?
Maybe you're looking to inform your neighborhood that your business is having a sale.
Or maybe you're looking for people who are interested in both dogs & unicycles – to help support your non-profit that teaches dogs to ride unicycles!
Whatever your marketing goal is with direct mail, better mailing lists are the key to achieving it. Targeting specific demographics will help you narrow your focus & save resources. You only reach the people most likely to be interested in your message. 
So how do you purchase your own Mailing List?
It can seem daunting, but once you've gone through the process, you'll be planning your own segmented direct mail campaigns in no time! 
Let's break down the 2 main categories of mailings – Saturation & Targeted.
Saturation Mailings
Want to mail to everyone in a certain area? Then a saturation mailing may be the way to go. With this style of mailing, the focus is on a geographic area rather than targeting specific people.
This is a great tactic for brick & mortar businesses looking to get more local traffic in the door. Need everyone in a 5 mile radius of your store to know that you're having a sale next week? Do a saturation mailing! 
Another method is to target zip codes of the areas you want to mail to. This strategy works well for service-oriented companies, like landscaping or home repair services. Focus on areas that you have a few customers in already, & see if their neighbors could also use your services. 
A big bonus to Saturation Mailing is the reduced postage cost. When you mail to the bulk of addresses in a mail carrier route, your piece qualifies for lower postage rates!
However, as you are blanket-mailing to an entire area, you'll need to print a higher quantity of mail pieces. You'll also be mailing to a number of people who are not interested, which can mean a lower ROI. 
Targeted Mailings
If your goals include reaching a specific set of people, then consider a Targeted mailing. Planning a targeted mailing also starts by choosing a location, but typically a broader area than a Saturation mailing.
Then, you'll further refine your mailing list based on specified qualifiers that describe your ideal audience. Choose from demographics like household size, occupation, charitable giving history, interests & hobbies, & many other categories. 
For example, let's say you run a day care & are looking to increase enrollment. Start by identifying a few zip codes surrounding your facility. Then, we can filter the list to only include households that have children under 5 years old. This increases the likelihood that your mail piece will reach someone who is interested in doing business with you. 
This method works well for events, too. Say you're planning a wine & cheese festival… You can choose zip codes for the surrounding towns or county, & choose to include people over age 21, who have an interest in food & wine, as well as an average household income over $50k/year. 
Targeted mailings are best for reaching a specific group of the population. But there is a tradeoff. Generating a targeted mailing list takes more time & effort, so the upfront cost of the list is generally higher than saturation mailings. Because the locations of your recipients are more sporadic, you also get less of a cost break with postage.
But, when you purchase a Targeted Mailing List, you have the option to use it multiple times. Once you've acquired a targeted list, it's easier to get your message into the hands of people who are most likely to respond to it.
Looking for a "best of both worlds" scenario? 
Our experienced project managers can help you get lower postage rates, while still hitting your target audience, using common demographics in conjunction with carrier routes. Ask us how!
Tip #2 – Practice Good List Hygiene
Purchasing a mailing list to use for an upcoming marketing campaign is a good way to acquire new customers.
But what about the customers you already have? If you have a database of your customers or donors, then you have a great start to a mailing list! These are people you already know are interested in your business or mission. 
Depending on how old your information database is, there may be some cleaning you need to do before you can start building better mailing lists. 
CASS & NCOA
Remember the last time you moved? Do you remember filling out the paperwork in your new mailbox, so the USPS would update your mailing address & forward your mail? Did you know that only certain types of mail gets forwarded? This includes anything mailed First Class or Presorted First Class.
If you're a marketer sending out standard mail, or non-profit mail, then chances are your pieces aren't being forwarded to these addresses.

So, how do you make sure your message gets to the right person? That's where the acronyms come in: The Coding Accuracy Support System (CASS) and the National Change of Address (NCOA) System.
CASS software checks addresses & corrects things like wrong street suffixes, misspellings in street or city names, adding the ZIP+4 codes, and other technical errors. 
The NCOA system, on the other hand, is a database of all the consumers or businesses that have filled out a change-of-address form with the USPS. Through the NCOALink service, we run your mailing list against this database & update the addresses for all your contacts that have moved since giving you their info.
Both of these systems are part of the Presorting process. Doing these extra steps (plus a few others) before delivering mail pieces to the USPS makes their job easier. In exchange, Presorted mail qualifies for lower postage rates! 
You can also run your customer database through the CASS & NCOA systems without mailing, to ensure you have everyone's correct information on file.
Watch for Duplicates
Databases are messy – it's the nature of the beast! It's easy to lose track of every entry. 
If it's been a while since your last mailing (or if you've never done a mailing before) start by looking for duplicate records. There are a few different ways to do this. Ultimately you'll have to decide which is the best for you & your goals.
This is especially important if you are purchasing a mailing list to combine with your in-house list. If a record appears on both the purchased list as well as in your database, you'll be sending multiple pieces to the same location, which translates to wasted resources. 
Duplicates on your mailing list can also mean accidentally sending multiple exclusive coupons or special offers to the same recipient. Worst case scenario – your recipients get annoyed at the repeat-mail, & it negatively impacts their opinion of your brand.
Tip #3 – Format Your List for Variable Data
Variable data is information that gets personalized on each piece. Software reads from an organized list of data, & inputs the correct information in the specified field on the layout. This is how businesses achieve things like sending out personalized birthday cards to every customer with their name printed on it. 
On mailing pieces, variable data mainly focuses on filling in Names & Address, as well as salutations. 
Depending on your marketing goals, it can be beneficial for a variety of other things, as well. It can allow you to customize appeal letters with tiered ask amounts based on each person's giving history. It also allows you to give each customer a personalized discount amount, based on how much business they've done with you. 
Personalizing your mail pieces drastically increases your response rates, & success with personalization starts with your data. 
Here are a few tricks to make sure your list is ready to shine!
Use Proper Case in your fields – The formatting of information in your excel file is exactly how it will manifest in with variable data personalization. One of the most common issues is typing names in ALL CAPITAL LETTERS. It's grammatically incorrect, distracting from your narrative, & sounds like you're shouting – all in all, not the best way to come across! Quickly fix this issue with the PROPER function in Excel.
Create a separate column for any & all fields – We see this issue most often with recipient's names. Let's say you want all of your appeal letters start with "Dear (Recipient's First Name)," but your data list is set up with a Full Name column. You can use the Excel Text to Columns Function to separate first names from last names into 2 columns. If you need to combine data from two columns, use the Ampersand Symbol to add columns together! 
Use a data map & only give the info needed – if you're not including your customers email address or donor ID on your mailing piece, then delete those columns from your mailing list before you send it to your vendor. This helps avoid any miscommunication on where the data should be placed.
Also, make sure to include a data map – A copy of the mailing piece with the column names listed as a placeholder for the data. This helps verify that all the info is there, & helps answer any questions that the mailing team may have.
Bonus Tip! –
Work with a Trusted Mailing Vendor
With so many variables impacting the outcome of your mail marketing efforts, unless you've got a mailing guru on staff, the best solution is to have a working relationship with a team of mailing experts you trust.
An experienced team can help you plan any size of mailing, acquire better mailing lists, help you stay on top of your database, & execute your mail pieces from design, to print, to Presort.
Be assured from the start of every mailing project that your pieces will be designed & produced to meet USPS specifications, avoiding any last-minute issues at the Post Office. In fact – avoid the Post Office altogether & let us deliver your Pre-sorted mail for you!
Never done a mailing project with AnchorPointe before? Reach out today to get a conversation started! 
Looking for more information on Mail Marketing?
Check out these related blog posts; Mailing Smarter with Direct Mail, & The Deal with Variable Data Printing.