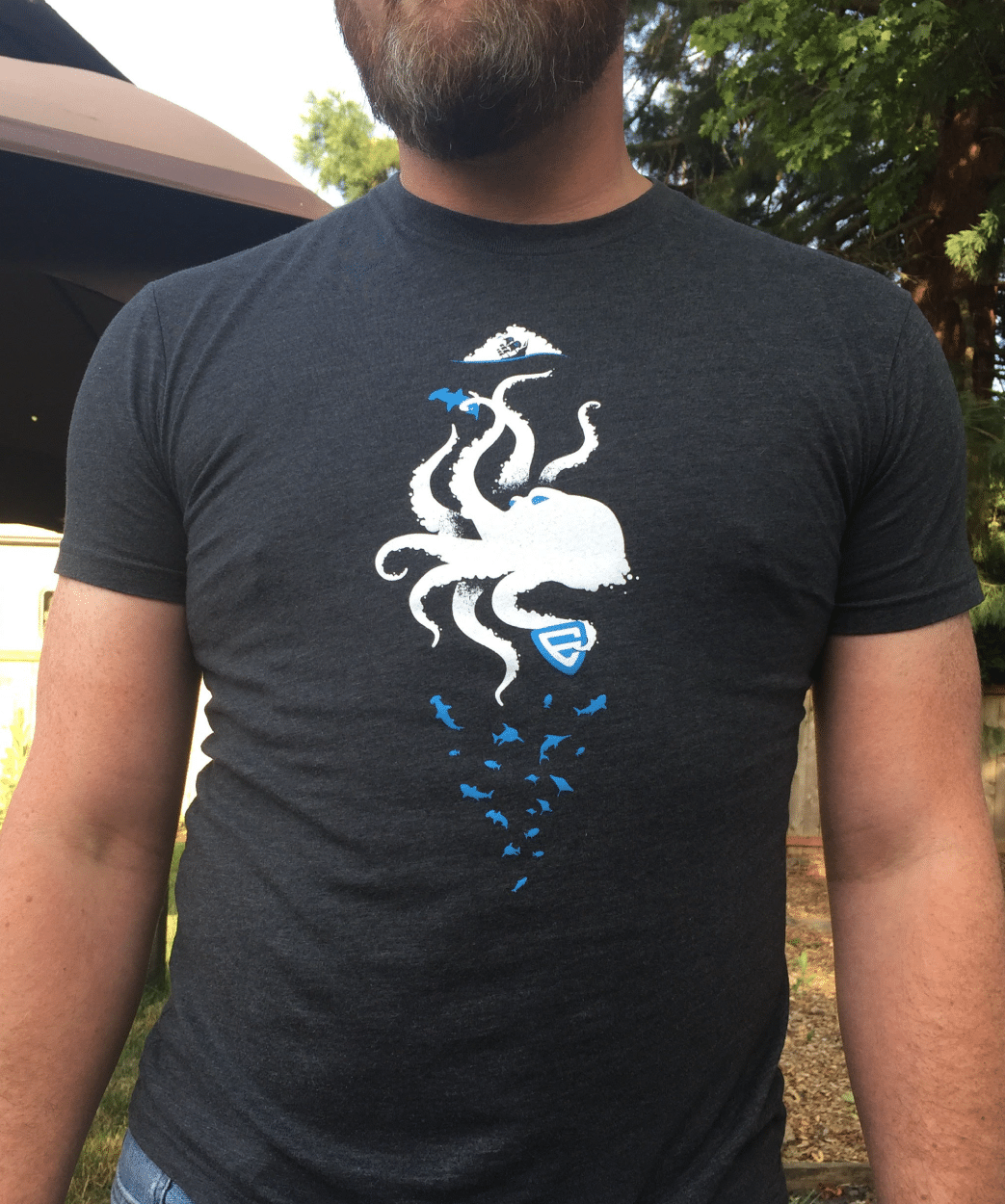 10 Jul

Promo Items People Love
On Pointe | Promo Items People Love
As the marketing industry gears up for Event season, there's one question we get asked several times; How do I choose promo items people will actually want? A seemingly simple decision, but one that can make or break how well attendees remember and relate to your brand.
We wanted to help our clients make better decisions about what promo items to choose, and to discover what makes them worth holding on to. So I asked some of the people in my everyday life about the promo items I spotted on them. (Yes, I did get some odd looks when I asked if I could take photos… Anything for our clients!)
ITEM 1: PROMO T-SHIRT | EVIDENT.IO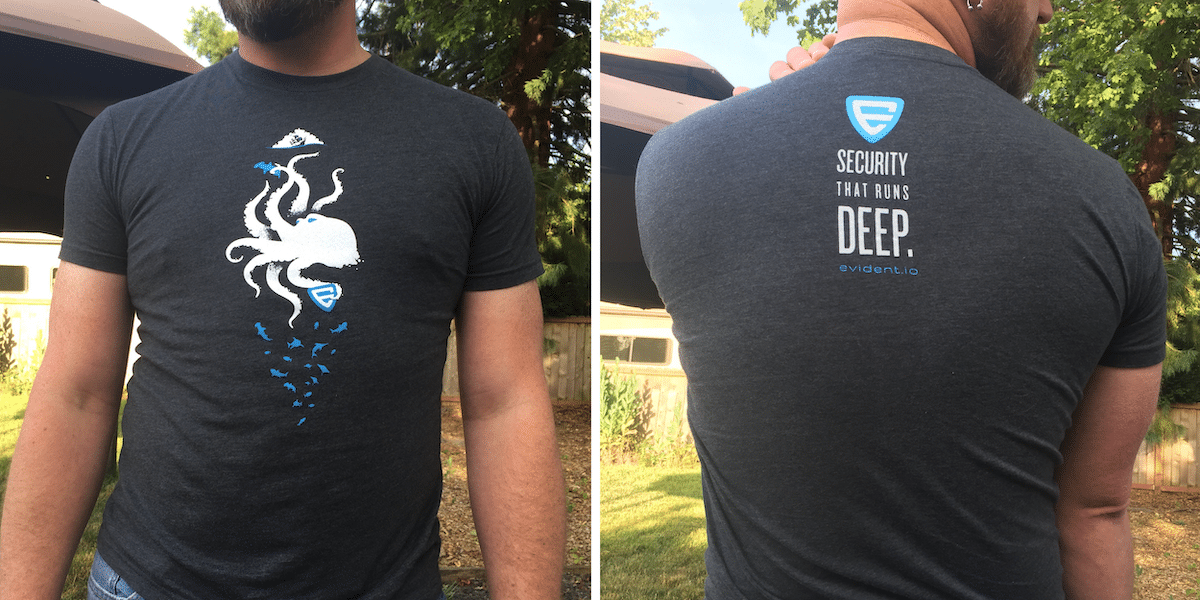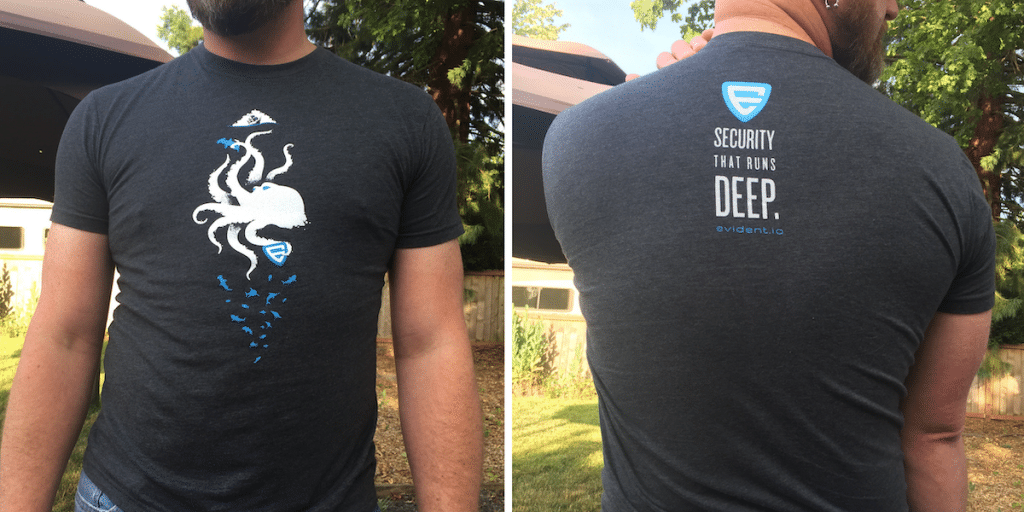 A friend showed up to a backyard gathering wearing this eye catching shirt. It was the design on the front that caught my attention, and sure enough there was a cleverly tucked-in logo announcing it as promotional apparel. On the back was a larger logo and a tagline that tied in the nautical graphic on the front; "Security that runs deep."
I asked where he got the shirt, and he told me about the cloud security tech company it came from (evident.io). They sent the shirts, as well as some other promo items such as pens and mugs, to his workplace in an effort to make a sales contact. He also let me know that it worked, and that his company does do business with them now.
So what were the "notice me" points about the shirt that made him take it home and hang it in his closet? The fit and material were on par with what he'd choose for himself; right style, and comfort. Overall, it was the design that had the biggest impact. This company invested in a branded, yet creative and well thought out graphic, making it interesting and "cool enough to want to wear it,"  according to the wearer.
The Takeaway: When you choose a t-shirt, make sure you're focusing on the quality and style your audience would want to buy. It's easy to get carried away with cheap and simple t-shirt vendors, but taking the extra time to make it a desirable clothing item is well worth it!
ITEM 2: COFFEE MUG | GREEN APPLE DENTAL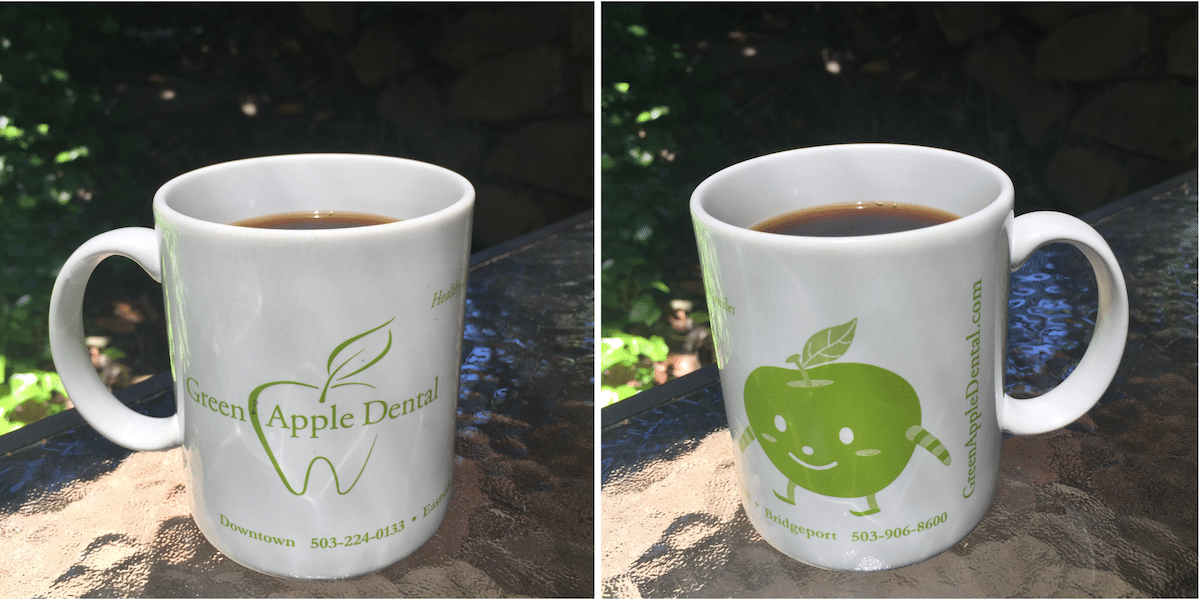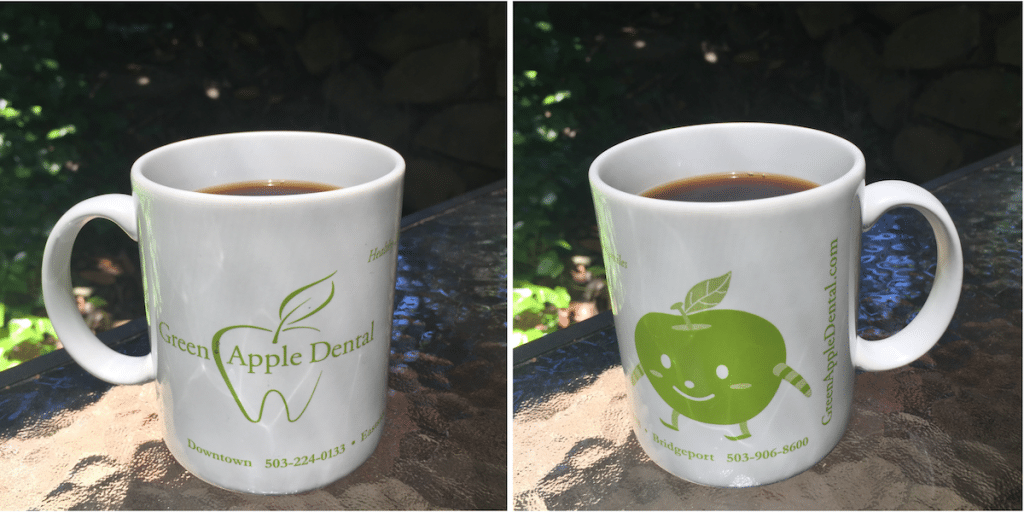 This happy apple mug belongs to another friend of mine, who said she would keep just about any mug received for free.
"They are always useful, and last until they break," she commented.
This one was from her dentist, given to her on her first appointment as a new patient – four years ago! The cute apple character is her favorite feature, and noticing it reminds her to make dental appointments, not only for her but for her kids as well. Unfortunately, this office is out of business now, but she did stay with them until they closed.
The Takeaway: Mugs are a universally used and valued item, being long lasting and functional for many years to come. They are appreciated, and can remind people about your business or services when they use it, prompting them to take action.
ITEM 3: MONTHLY SLAP STICKERS | DUTCH BROS. COFFEE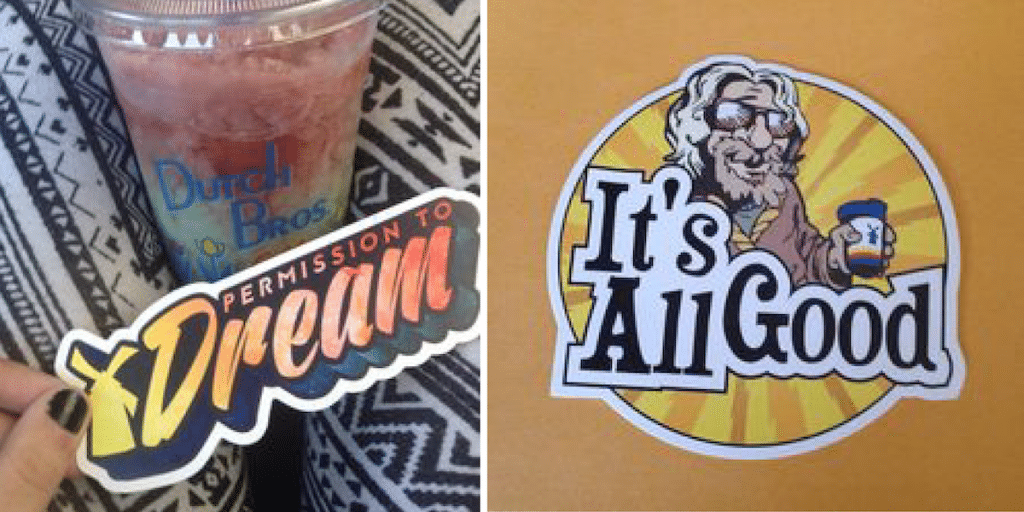 If you live in the Pacific Northwest, you know about Dutch Bros. Coffee. One thing they do exceedingly well (besides make the best coffee) is promoting themselves. They put a lot of energy into building rep with the communities they serve, and people love it.
My partner's 19 year old daughter makes a point to collect their promo stickers. They give away a new branded sticker design every month, encouraging their patrons to keep coming back. (Not that most DB fans need another reason!)
"They always have awesome designs, and it's something fun to look forward to each month," says the collector. Part of the appeal is in the experience of going at the start of each month, chatting with the outgoing baristas, and snapping a pic of that month's sticker + drink to share on social media.
The Takeaway: Slap stickers are a popular item, especially with younger age groups. They are likely to be kept or placed in a visible spot as decoration. Feature creative, pop-culture relevant, or humorous designs or text, and they become social media share-worthy, which will spread your brand even farther.
Take a note from this strategy to keep people coming back each month with your promo items. Give your customers something to look forward to about stopping in!
Thanks for reading!
Hopefully these insights from real people about these favorite promo items will inspire you to think of your own creative promo giveaways, as well as how to implement them beyond the standard Trade Show booth hand out. These impactful tools can make a huge difference in how your community perceives and remembers your business.
As always, the team at AnchorPointe Graphics is standing by to brainstorm creative solutions with you, provide guidance on budgeting, production methods, artwork, and planning your next promo items!