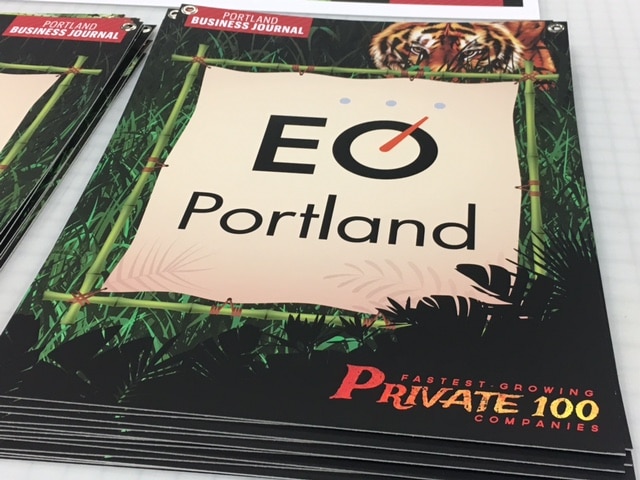 22 Jan

Planning with a Partner
PLANNING WITH A PARTNER
Planning ahead is a critical part of success. Planning with a partner further increases your rate of  success.
In the world of printing & marketing, working with a dedicated partner means more eyes on your project. Both parties identify concerns early on, helping to avoid surprises or mistakes along the way.
The AnchorPointe team has a lot of practice when it comes to being good partners. One example is our relationship with the Portland Business Journal's Event Team.
Here's how we help PBJ achieve their goals through planning with a partner.
OUR FIRST PROJECT
In August of 2015, Portland Business Journal first reached out to us needing signage for an upcoming roundtable event. Looking for something sustainable, they also needed it quickly – the event was in two days!
Thinking fast, our owner Janey was able to provide them an estimate for Recyclable Signage material. They decided to try it.
Two days later, the PBJ had their signs. Their event was a success, & a new partnership was born!
Since that first project, we have partnered with them on printing signage, programs, name-tags, & various other event materials for over 130 PBJ events.
BUILDING CONSISTENCY
As our partnership continued, we noticed a consistency among their event materials. After hosting so many events at many different locations, the PBJ knows what their 'winning formula' is. They know what materials they need to make their events visually interesting and easy to navigate.
These "consistent" pieces are now now fast to both plan for and produce. For example, we know that PBJ event "Directional Signs" will always be the same size, printing on our recyclable rigid material (the one that started it all!).
We know the key differences in the name tags they use, whether they need 'sticky-back' or 'hard-cases', & exactly what stock to use for each. Thanks to planning with a partner, we have historical context of their projects to draw on. 
PARTNER PLANNING IN ACTION
The more projects we do with Portland Business Journal, the more familiar we become. Not only with their materials & how they should look, but with the events themselves.
After a while of partnering with PBJ, we learned the pattern of how their dates for events are set far in advance. Once we saw more of their "big picture," we had an even better idea of how to help them.
We proposed making a calendar timeline for all of their events on a 6-month basis.
What does this accomplish?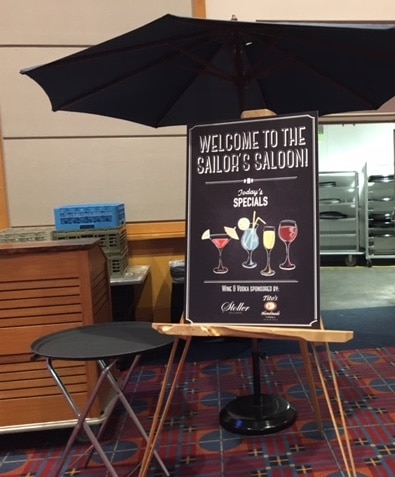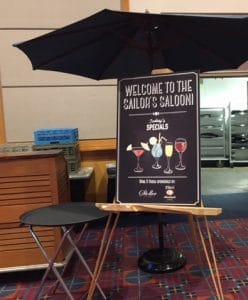 During this twice-a-year meeting, PBJ & APG look ahead at all upcoming events & what they require. We look at what type of event it is, the projected size, & what materials will be needed.
Working backwards, we create a calendar for that 6-month period, building a timeline & noting 3 important dates for each event:
The date of the event.

The date PBJ's Event team needs all materials in-hand.

The date APG needs to receive all artwork & order information, in order to meet the in-hand date.
By setting these deadlines in advance, our AnchorPointe Project Managers can help PBJ's busy event team stay on top of meeting them.
And because we know their consistent event materials, we can make sure to have materials on hand at the start of each project.
BUILT-IN SUCCESS
Our partnership with Portland Business Journal is mutually beneficial in so many ways!

We help the PBJ Event Team stay focused on other aspects of event execution. They know exactly how much time they need for their printed materials. And they know we've got their back, making sure everything is produced correctly, & on time.
In their own words…
"By planning it out ahead, it eliminates the step of going back and forth before each event to determine when items are needed on both sides. Developing a timeline has simplified the whole printing process for our events and made it so much smoother."

– Angela E., Portland Business Journal Event Coordinator

"AnchorPointe's customer service far exceeds any I have experienced with a vendor. I know I can rely on their team to complete any task requested and the quality of work is of the highest standard.

We host multiple events weekly and their team has created a deadline spreadsheet for us to track when files need to be provided in order meet our delivery requests. Having this type of safety net ensures that nothing goes missing when multiple events are taking place at once.

Their team goes the extra mile following up with us and catching errors because they care about the quality of the product they are providing. We wouldn't be able to do what we do without their due diligence!"

– Lexy G. Portland Business Journal Director of Events
FROM OUR PROJECT MANAGER…
On the flip side, our team at APG knows when to expect projects from them. We can make sure we have availability in our production schedule for their projects, so there are no surprises or last-minute rushes!
"It helps tremendously to have advance notice of the events, especially the big ones! By looking to the horizon I can quickly spot any potential issues and give my team plenty of notice when a project is going to land with a super tight turn!"

– Audrey C., PBJ's assigned Project Manager
INTERESTED IN LEARNING MORE ABOUT PBJ?
Learn more about the Portland Business Journal & their events throughout the year – click here!