09 Jul

Not Just for Trade Shows
NOT JUST FOR TRADE SHOWS…
The items in our 2018 Trade Show in a Box are the top in-demand products used for trade shows. But they're not just for trade shows! Most of these items are also fantastic stand-alone pieces that you can take and use in many other situations.
Here are a few ideas to get you thinking outside the (Trade Show in a) Box!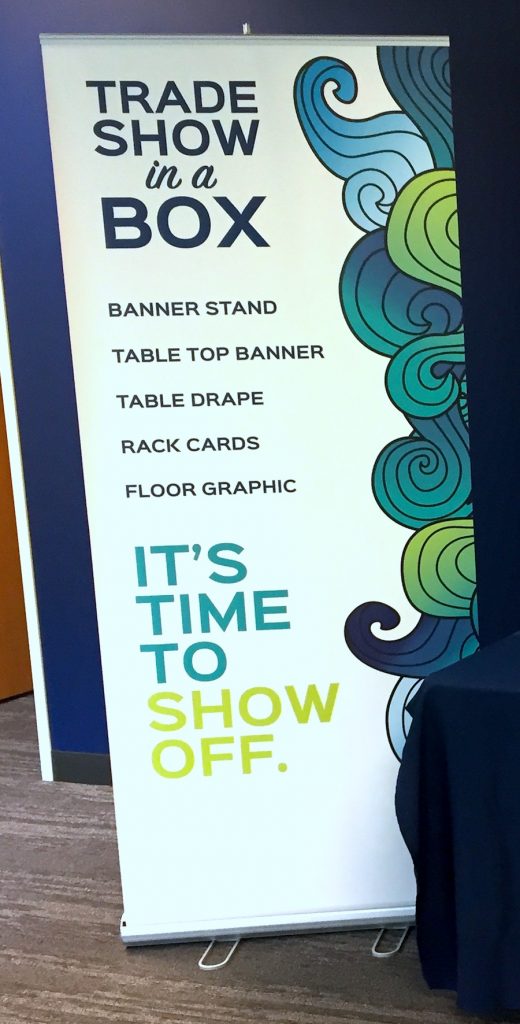 BANNER STANDS
These pull-up banners are designed to be easily transported and set-up, and fit with a variety of locations. Set them up at any indoor setting, as well as most outdoor settings with coverage or good weather.
Use one to clearly mark the entrance of a venue to welcome guests, add your brand to the outside of the building, and guide them into your event. Need tall, visible mile markers for a 5k? Or a vertical photo backdrop for an event party? These versatile signs are not just for trade shows!
TABLE TOP BANNERS
Use a table-sized banner stand to add an elevated element of visual interest to your table or bar top. Or create a temporary POP display wherever you want one.
Developers use them to present bar sponsors, silent auction details, "enter to win" displays, and as elegant temporary indoor signage. They're also great eye-catchers for booth events like farmer's markets, bazaars, and craft fairs.
TABLE DRAPE
Dress up any display with a simple white table drape imprinted with your full-color logo on the front. Lay it over a coordinating brand color to add a professional, polished look to your set up.
Increase brand visibility on an event sponsor table (especially if you're a business sponsoring a Non-Profit event), or highlight a promo-product giveaway table. Anywhere you make an appearance, add some on-brand style.
WHEREVER YOU GO…
Use them separately, or mix and match depending on your needs – these full color printed materials can become your go-anywhere display kit that encourages you to get out to more events, and increase your brand's visibility!