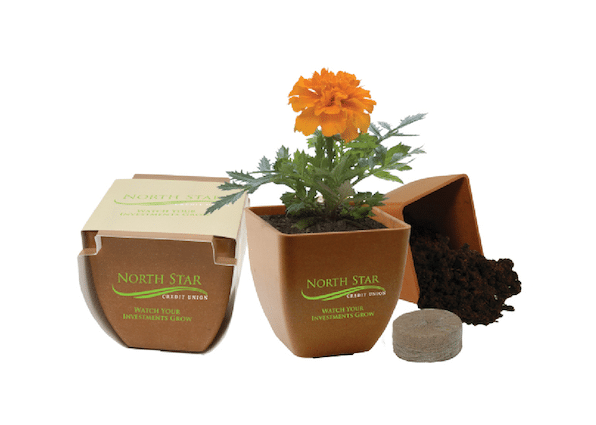 20 Jun

Eco-Friendly Promo Items
Eco-Friendly Promo Items
People today care about their impact on the environment, and choosing eco-friendly promo items is a memorable way to show you care, too. Connect with people and create trust with items that reflect your company's commitment to socially responsible business practices.
Here are a few awesome items that we know we'd love to pick up for free at a festival or booth event. This is some seriously sustainable swag!
Reusable Straw with Carrying Case
With the rising awareness of plastics in the ocean, more and more people are vowing to use less plastic. One startling study found that in the U.S., we use 500 million straws a day!
Give away an item that will save countless future plastic straws from being thrown away. Reusable straws can be tucked away in a logo-imprinted bag or case and taken anywhere. Remind people of your brand, and encourage them to sip socially-responsibly at the same time.
Growable Giveaways
We can't think of more eco-friendly gifts than plants! There are many cost-effective ways to give small starts of herbs, flowers, bamboo shoots, and even tree seedlings. Pair them with a branded paper pot-wrap, plant tag, or marker stick in the soil for a personalized touch. Not in a great location for live plants? Seed packets printed with your information also make a great impression!
One exciting print product that offers huge creative potential is biodegradable seeded paper! Print directly to this 100% eco-friendly cardstock, embedded with wildflower seeds, printed with all-natural, water-based inks. This uniquely green option is available through specialty printers and can be used to create bookmarks, hanging tags, wristbands, and more.
Reusable Bags & Totes
We know this one isn't new, but the research still shows that branded bags are one of the top desired eco-friendly promo items out there. In one recent study by PPAI, 31% of U.S. consumers reported owning a promotional bag. Putting your logo and messaging on a bag that will be carried into public areas is a great way to get your brand seen and build recognition.
One reason reusable bags are maintaining their popularity is the growing focus on sustainability and reducing waste. It's estimated that 4 trillion plastic bags are used each year. Make an impact and help your customers stick to their environmental goals. Give them a better bag with your cool branded design on it!
Reusable Utensil Sets
Replace these common single-use plastic items with a unique, high impact idea. Reusable sets in cases – including a fork, spoon, knife, and often chopsticks – are a fantastic high-end giveaway that will be appreciated!
Reusable utensils are perfect everywhere from school cafeterias to outdoor events. Add your company's name, logo, and website for eco-friendly promo items that will become table-talk conversation starters!
Sustainable Materials
Many standard promo items are being re-imagined with sustainable materials, creating a whole new category of eco-friendly promo items. Staple swag like USB flash drives, lanyards, water bottles, pens, and notebooks are being created with 100% recyclable, post-consumer materials.
Look for alternative materials that will prevent waste, like bamboo, cotton, wood, stainless steal, and recycled glass. In addition, these materials are long lasting and durable, making them ideal for promo products, which are kept an average of 2 years.
Proud To Be Eco-Friendly
Being mindful and responsible in your business practices is a quality that consumers today expect. Do your part and promote your company's commitment to eco-sustainability. Choose eco-friendly promo items that you and your customers will feel good about!