09 Apr

Eco-Friendly Event Signage

Eco-Friendly Event Signage
Temporary event signage and printed materials are a critical part of hosting a professional event. Visually they add brand presence and theme décor to the venue, and give information like directions, schedules, sponsor names, and more.
The biggest downside to event signage is that it becomes obsolete as soon as the event is over. The materials are often tossed out, and become waste in a landfill. But with some eco-minded event planning, you can skip the dumpster, without skimping on quality.
With eco-friendly substrates for bold, affordable temporary signage, and multi-use solutions like banner stands and re-printable signs, you saving money and the environment.
100% RECYCLABLE SUBSTRATES
These alternatives to standard board medias, like styrene (foam), PVC, or corrugated plastics, were developed to create quality printed signs that can be recycled at the end of their use.
TIP: Get more out of all your sign substrates! Print double-sided when possible, and update the graphics with a cover-up printed on adhesive sign vinyl.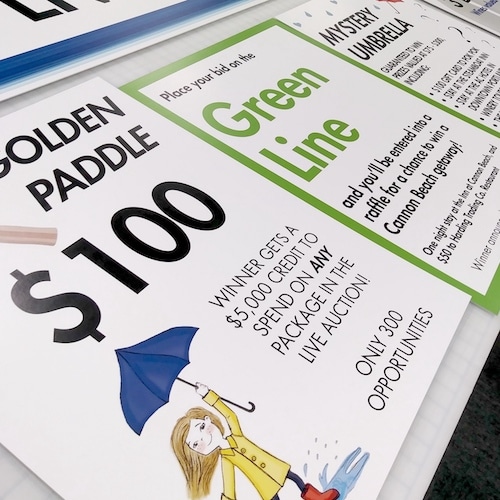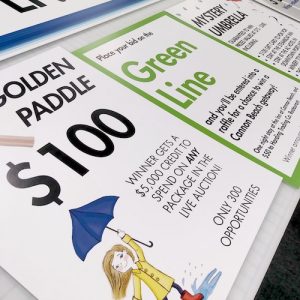 DUOBOARD
This dense, bright white substrate has an ultra-smooth poster-like finish on both sides, making it perfect for bright, full color digital sign prints. Easy to cut by hand or with a die, this material is a great option for making POP displays or stand-up signage.
CONVERD BOARD
A green alternative to corrugated plastic, this rigid substrate comes in a variety of weights and sheet sizes for custom durability. Made with 10% post-consumer waste, conVerd™ board is moisture and crush-resistant, with a smooth finish on both sides for double-sided printing or vinyl application.
REUSABLE SOLUTIONS
In addition to choosing recyclable substrates for temporary signs, there are many solutions that can be re-purposed for multiple events.
BANNER STANDS
An event and tradeshow staple, banner stands are large, eye-catching, quick to transport, and easy to re-purpose. Many models are designed to have replaceable or exchangeable inserts, making swapping out new graphics a piece of cake. Available in sizes ranging from small table-top banners to full-size backdrops, banner stands are a worthy re-usable investment.
SIDEWALK/A-FRAME SIGNS
These handy sign frames are versatile, easy to move and set-up, and are a great solution for events held at a rented venue. Perfect for parking lot or directional signage, A-frame signs are simple to store when not in use. Create as many sign inserts as you want, and keep them all to interchange as needed. Don't forget to print double-sided, so you can turn them around for double-duty!

MAX METAL BOARD
Re-usable signs are ideal for recurring events, such as annual fundraisers or awareness campaigns. Max Metal combines durability and transportability, with a smooth aluminum finish on both sides, and a solid polyethylene core. Apply printed sign vinyl that can be removed or covered, or print directly onto the surface.
The printing industry continues to develop environmentally responsible solutions and reusable options to cut down on all business' carbon footprints. Many organizations are committing to green initiatives and reducing waste in the workplace.
Make the switch to recyclable substrates for your event materials, and see what a huge annual impact keeping temporary signs out of the dumpster can make!