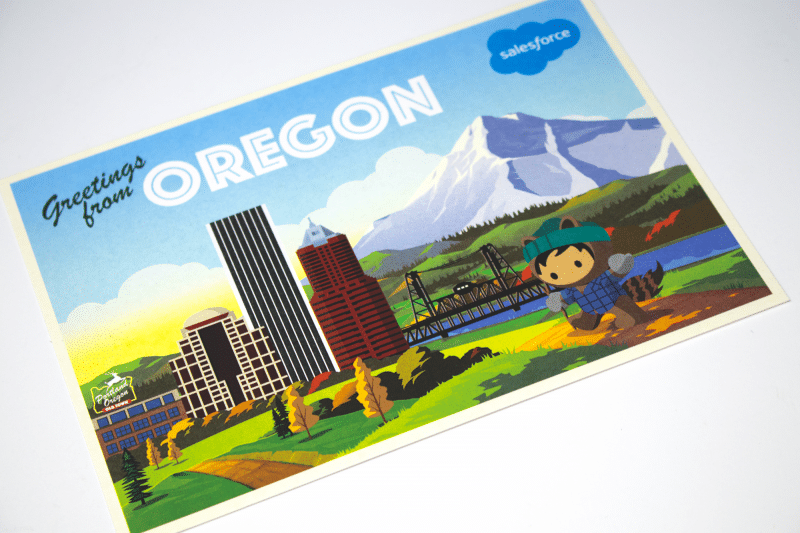 23 Sep

5 Great Ways to Remind People You Exist
5 Great Ways to Remind People You Exist
2020 Update:
In September 2019, we wrote this blog post about 5 great ways to remind people you exist.
Now, nearing September 2020, reminding people you exist seems more crucial than ever.
"Out of sight, out of mind" has taken on a new meaning during the coronavirus pandemic. Our adapted lifestyle of staying home, avoiding public places & crowds, & spending less time out in our communities has had a big impact on people's habits. Which means the way we make decisions, & how we spend our time & money has changed, too.
So we've updated these 5 strategies with a 2020-twist.
Because for us, it's about helping you find new, safe ways to continue achieving your goals.
And for business & development leaders, it's about finding new, safe ways to help people continue living, working, & enjoying life to the fullest.
What is your top goal as a marketer/developer/business owner? To complete as many transactions as possible, leading to steady growth, right? It can seem like an uphill battle to constantly attract new customers. So how do you keep sales up?
CUSTOMER RETENTION
To put it bluntly, you need to remind people you exist. Over & over again. Retaining your current customers & building on those relationships should always be a top priority. It's easier to attract one person & fill multiple needs for them than to keep attracting new people.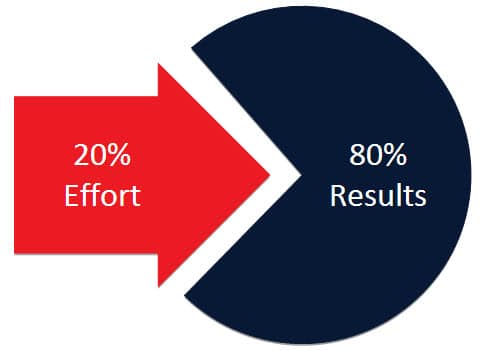 For a long time, the "80/20 rule" has been applied to sales in business. Also known as the Pareto principle, it's a theory that suggests that 80% of all output comes from 20% of all input. Translated to business terms – 80% of your sales are coming from 20% of your customers. 
Is that mathematically fact based? No. However, when planning where to focus your marketing efforts, it's a good starting point to identify what works, & where to put more energy into.
"At its core, the 80-20 rule is about identifying an entity's best assets, and using them efficiently to create maximum value."
For most consumers, once they find a brand, product, or service they identify with that fulfills their needs, they're unlikely to leave. One recent survey suggests "84% of U.S. adults are loyal to retailers and 82% are loyal to product-brands."
This means that over 80% of adults in the U.S. prefer to stick with their favorite stores & products. That feeling of loyalty can even keep people with you during uncertain economic times, when they might pull back on spending. Focus on building that kind of loyalty with your customers, with these 5 Great Ways to Remind People You Exist. 
1. MAKE AN ANNOUNCEMENT
Have you added new products or services to your repertoire recently?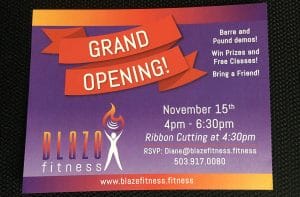 Has your organization accomplished a longterm goal?
Do you have something exciting coming up like an event, promotion, or community activity?
Tell everyone about it! Make an announcement to let people know what you're up to, what's changed, & (most importantly) how it could impact them.
Highlight how your new product/service is going to make their lives better/easier/more productive. Share how excited you are to have met a community goal with your donor's help – they should feel proud, too!
Creating shared experiences helps people feel connected to you. By keeping them informed, they feel in the loop. By including them in the celebration, you're sharing the success. Sometimes, just the fact that you've consistently communicated to people keeps them coming back.
Send it in the mail – Create a postcard, letter, greeting card, or other creative mail piece to send an announcement straight to your current mailing list. Or go bigger, & announce it to your whole area with a Targeted Saturation Mailing. Pick your zip codes, choose to mail to businesses or homes (or everyone!) & send your message to as many people as you want!
Send an e-Blast – E-mails are great for conveying quick bites of information, like an upcoming sale, or sharing a success story. In addition, e-mails have the added benefit of including links to lead people to more content, if they are interested.
Put it Online – Your website & social media pages are often the first things people go to when checking out an organization. Make sure you update them regularly with current info & photos of products, upcoming events, promos & sales, & any other herald-worthy news!
2020 Update:
Making announcements keeps people informed, & helps them feel in the loop. Especially right now. Send important updates like changed business hours, or new policies keeping customers safe. Or even what you're doing to help take people's minds off the chaos for awhile.
From another recent APG blog post;
"Consumers are rattled by the changes to their lifestyles. Many types of businesses have had to shift how they operate to accommodate public safety. People are adjusting to wearing masks, no-contact service, and limited numbers of people allowed per building. Communicate your relevant changes to customers, and keep them up to date.

For both businesses and non-profits, consistent communication is one of the best ways to educate, inform, and build trust with your supporters. There's a lot going on in the world, & people need reminders that you exist. Let them know you are still here, need their support, & what you are doing to be relevant right now."
(AnchorPointe Graphics, 2020) 
Read more about what people want to hear from brands during this time in our blog post about the 3 Most Effective Marketing Strategies Right Now.
2. SEND A HANDWRITTEN NOTE
Sending someone a handwritten note, whether mailed or delivered in person, is still a meaningful gesture. It sends the message that you consider the person worth the time & effort. Especially if what you have to say is relevant, interesting, or useful to them.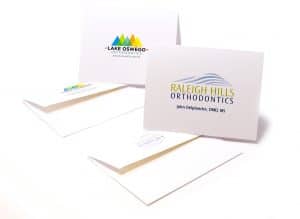 Some examples of things you might write could be…
Thank You – showing appreciation for your customers is always a welcomed way to let them know you're still here.
An invitation – a handwritten invite to lunch or coffee is much more substantial than a casual text or email.
Happy Birthday – if you happen to know when a customer's birthday is, it's the perfect opportunity to connect with them over something non-business related.
Well Wishes – Just sending them a cheerful note wishing them well is a great way to remind people you exist!
To keep things professional, consider using customized cards with your branding on the front. Make sure your handwriting is legible, your contact info is there, & don't forget to sign it!
2020 Update:
In the world of COVID, getting something made by hand has become even more special. Letter writing & sending postcards through the mail has enjoy renewed attention, both personally & professionally.
In one new letter-writers words, "There is something satisfying about putting pen to paper, whether it's a short message on a pretty card or a long, hand-written letter. And in my opinion, there is nothing more delightful than receiving a note from someone you care about that has been crafted with thought and sent with love." (Thrive Global, 2020)
With the world in flux, everyone is seeking comfort. We're seeing a revival of all things nostalgic; home cooking, tie-dye, & a new appreciation for the US Postal Service are among them.
In one recent NY Times article, they take a look at the ways "snail mail" is giving people a comforting outlet during the pandemic.
"A letter is one of the most undervalued but important ways of expressing yourself," said Ms. Hadnot, who teaches sophomore literature and writes under the name Brianca Jay. "It doesn't have to be perfect or written with the best grammar and semantics and flowery prose. It just has to be you." (NY Times, 2020)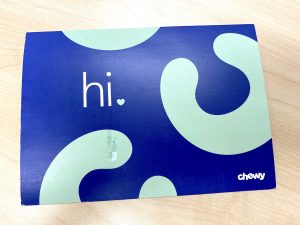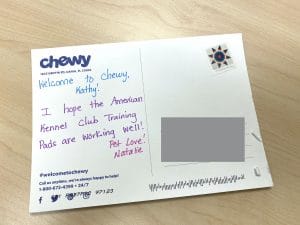 We've seen an increase in this personal touch used in marketing over the last few months, too. One of our team members just received this cute handwritten postcard (scribed in 3 different colors of pens!) from the online pet vendor, chewy.com, for example.
Many people are experiencing e-mail fatigue. We highly recommend multi-channel efforts right now. Still send that email. But back it up with a punchy mail piece that shows up a few days later. This reinforces your presence & message, & catches people who aren't paying close attention to their inboxes.
A good idea for brand awareness & building connection – not to mention giving people warm fuzzies in their mailbox!
3. CREATE SOMETHING COOL
In professional marketing lingo, we'd say "develop a compelling creative campaign with captivating visuals & a relatable message." But essentially the idea is to make cool art that people like to look at, with your message baked in.
A great example of this is the recent Travel Oregon "Only Slight Exaggerated" campaign. These breathtaking animated ads feature real places & experiences in Oregon, with a "Studio Ghibli" feel that many people respond & connect to. The videos have enjoyed over 10 million views worldwide. People seek them out because they are just so cool to look at!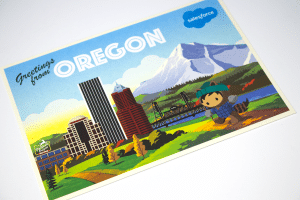 You may not have the resources to create a full 2 minute animated spectacle. But with the help of a creative marketing team & an in-tune graphic designer, you can conceptualize your own masterpieces to utilize in print, online, & on social media platforms. Show people an amazingly designed piece of artwork that speaks to them, & they'll remember you exist.
Check out this postcard example, designed by our friends at SalesForce, printed at AnchorPointe. The Portland-local scenery depicted in their brand's graphic style is both appealing to Oregonians, & adorable!
2020 Update:
Art plays an important role in society. It helps us find our voice, define ourselves, & relate to those around us. It helps us express what we're feeling, what we're going through, & how we're coping. Art unifies us, & lets us explore things collectively in a way nothing else can.
"In this time of crisis and isolation, the role of art becomes more central to our lives, whether we realize it or not," says Louis Netter in one recent post. "Whether we like it or not our consumption habits – including media – form who we are, our values, our inclinations. They are a patchwork of beliefs that are also tested in these difficult times.

People on social media are sharing favourite Netflix playlists, songs, videos and even artwork to reach out beyond isolation and share what they love." (The Conversation, 2020)
As people with a platform (business leaders, development officers, marketers, designers, etc.) we can help positively impact the world around us. Which in turn, helps positively impact peoples perceptions of our brands.
Brands can tap into the impact of art by collaborating on projects that make artwork, creative media, & other uplifting content available to people right now.
Like this example of business owners teaming up with two local arts organizations to bring some beauty back to the streets of Portland.
Business owners who had experienced damages during late-night rioting reached out & paired up with artists & local youths to create inspiring murals on the plywood boards covering their storefront windows.
It's a way for the businesses to show support for Black Lives Matter, & give back to the community.
"The young artists are writing out their hopes for the community on the spaces before painting them. The murals include large scale paintings of words such as "enlighten" and "listen." Participants in the project are writing out messages inside the painted letters.

"We're hoping that passersby will come and write their hopes, too," said Jennifer Winship Mark, of Color Outside the Lines. "We're hoping that it just gets filled." Mark says she's happy to be replacing the graffiti that covered the plywood and hopes the project will counter "the anger and the destructiveness of a lot of the spray painting that happened in these last few weeks." 3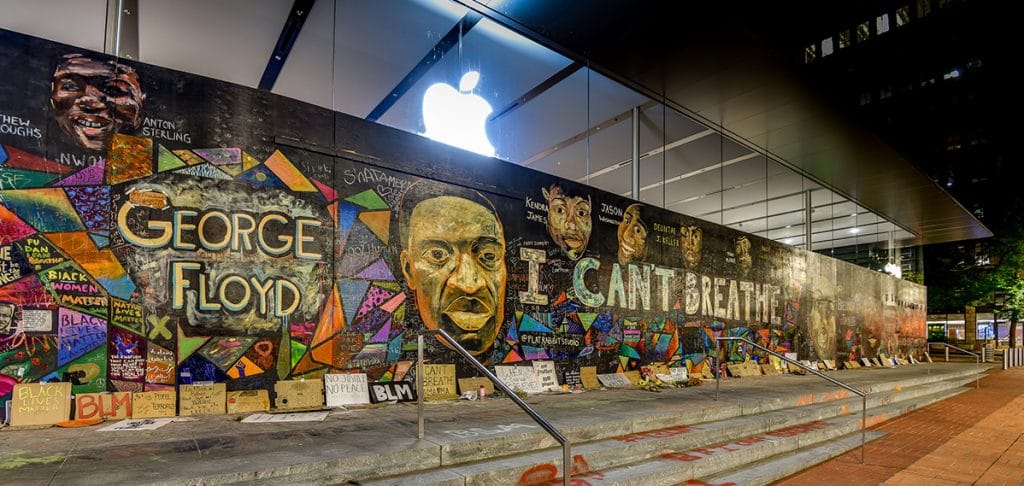 4. WRITE A SURVEY/POLL
The best way to know what your customers want is to ask them. Asking relevant questions is also a great way to remind people you exist. Most people like talking about their preferences & opinions. Get them to open up to you, & discover hidden elements to your success that can help you retain & grow your audience.
Send a survey via email, through the mail, or post it on your website or social media page. Consider what kinds of questions will give you the answers you're looking for, & what kinds of questions your customers will be interested in.
Filling out a survey or poll can be entertaining, too! Add some humor, use a casual voice, & keep it short enough to complete over an average coffee break. People will remember you for your wit, & for giving them something fun to break up the monotony of their workday.
Looking for more tips on how to make surveys a fun & interesting tool? Check out this article by Survicate. 
2020 Update:
Keep an open mind, & listen.
Surveys are still one way of getting direct feedback from your audience. But right now, they don't seem like the right tone for the kind of information that would be most helpful.
As community leaders, business owners, & non-profit developers, we want to know where people's heads & hearts are at. We want to know what is impacting them the most, & how we can become part of the solution.
When it comes to serious matters like addressing racism, concerns of public safety, & keeping your finger on the pulse of the pandemic, it's important not to assume you know anything about the people you're communicating to.
Do some new research into your Target Audience with an open mind. In one analysis of U.S. consumer behavior during the pandemic, four main archetypes of responses have emerged. (University of Colorado, 2020) 
Brands are using these response archetypes – the warrior, the jester, the common man, & the innocent victim – to develop highly relevant & empathetic ways to connect with people. In the example below, Verizon's "free data" response is geared towards people feeling like "the innocent victim." 
"The other day I got a text from Verizon saying that they were giving me 50 gigabytes of data for no charge. I've been hearing that a lot of the cell phone services have been doing things like that, which is unbelievable because it's easy to feel so trapped at home and so victimized by this quarantine situation. But the fact that you can reach out to a family member or friend at no incremental expense is a really big deal.
…it was their way of saying, "We're here to help." The assumption is that they are doing it out of their own cost, but they're investing in a long-term customer relationship." (University of Colorado, 2020) 
In contrast, Verizon's "Giving More" website is messaged for those who are feeling a "warrior" response. They want those "everyday heroes" to know Verizon is with them. "Teachers, nurses, first responders and military get our best. Learn about our exclusive discounts, partners and more." 
Learn about the four response archetypes here, & how you can use them to determine what kind of response your audience needs.
5. HOST AN EVENT
This may be the most grand gesture to remind people you exist. But curating an in-person experience for your customers to attend also creates one of the strongest impressions.
Hosting an event, either at your location or an offsite venue, creates ample opportunities to connect with people currently doing business with you. Bringing people together gives you invaluable time to ask them questions, listen, & develop a deeper connection with them.
Being in person also gives you the unique chance to show off your personality. Sometimes communications between professionals can seem stiff & forced. Being around your customers for awhile lets you break the ice, leading to more natural & comfortable communication.
Developing your own event also lets you set the topics of discussion. Position yourself as an authority in your industry by offering information to educate & empower others. They'll be more likely to think of you the next time they have a problem you've already offered them advice on. In addition, they'll walk away from your event feeling like it was a worthwhile, having gained valuable knowledge.
2020 Update:
We're all still mourning the loss of in-person events & activities over the summer. And it's looking like that trend will continue for the rest of 2020, if not beyond.
Virtual events & online-hosted activities are already everywhere.
Our advice now? Focus on what's going to differentiate yours. What kind of special touches, personal flair, & branded brilliance can steal the virtual spotlight?
Think about set-design for where you'll be hosting from.
Think about what kind of materials you can send people before-hand, to help them stay engaged in your virtual content.
Think about unique, cutting edge technology for during your virtual event, like real-time illustrations (known as digital live scribing), or hosting live games & competitions.
Think about the kind of follow-up you can send to reinforce your message & make a stronger impression.
There's no way to know when in-person events will be able to return, or what they'll look like when they do.
Virtual event planners can help create the future by embracing what we've got to work with now, wholeheartedly & with an innovative mindset.
"As part of their event, Google SheetsCon hosted an incredibly popular contest to win one of 25 swag bags that they had put together with branded event shirts and stickers. In order to win, participants had to share something about the event on social media using the dedicated event hashtag, or visit at least 5 of the sponsor booth pages during the event. Using criteria like these helps increase brand awareness and also works to engage attendees, so it's a win for everyone." (Event Management, 2020)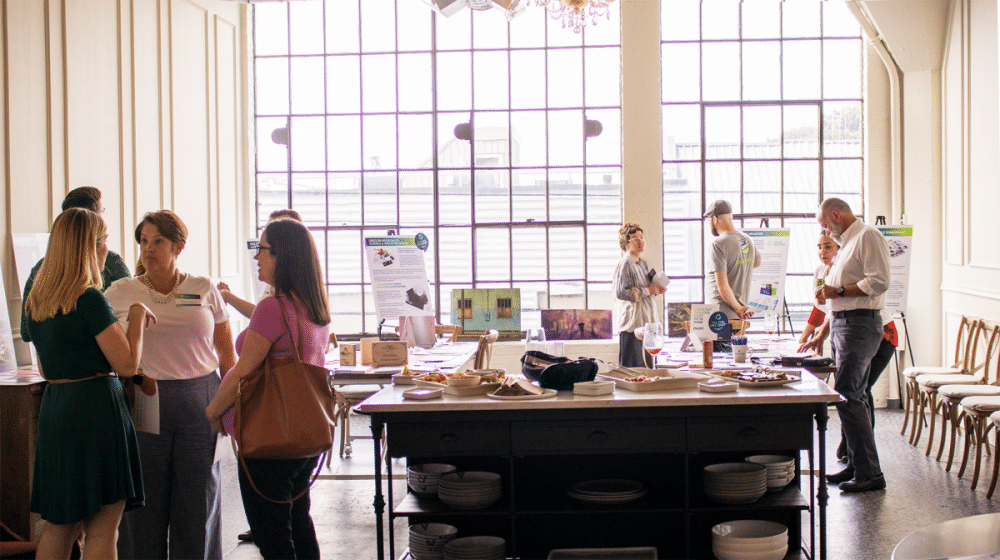 This past summer in August (2019) we held an AnchorPointe Open House in downtown Portland, where many of our clients are located. It was a fabulously fun time, & gave us great opportunities to talk one-on-one about everything from work-related projects, to exploring our capabilities & brainstorming possibilities with them. In the months after, our Project Managers have enjoyed having those shared experiences to draw on with clients. The event led to several closer relationships & new project ideas.
BE CONSISTENT
Use all of your organization's abilities to reach out & make connections with your current customers to keep them close. Consistently re-engage people with your brand in person, in the mail, online, & anywhere else they can reach you. The more times you start the conversation, the more likely they are to take action.
Keeping one customer is less expensive than attracting a new one. On top of that, repeat customers spend an average of 33% more than first-time customers.
Make customer retention a top priority by reminding people you exist on a regular basis!