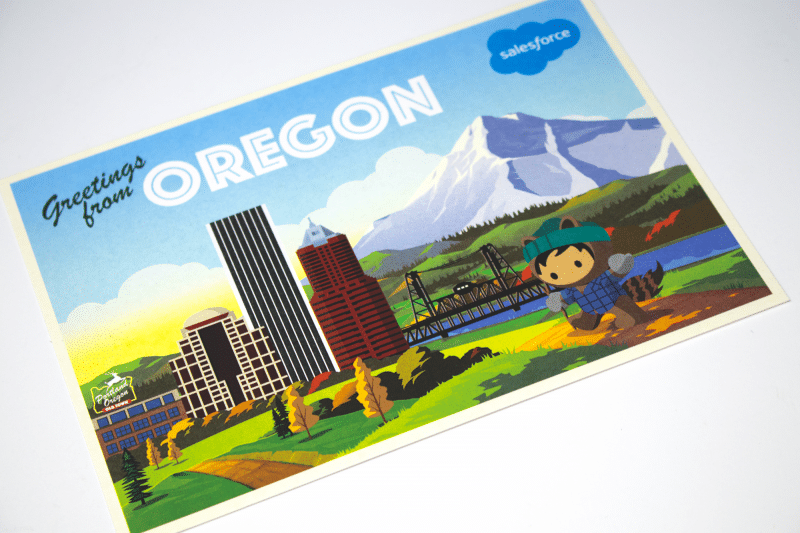 23 Sep

5 Great Ways to Remind People You Exist
5 Great Ways to Remind People You Exist
What is your top goal as a marketer/developer/business owner? To complete as many transactions as possible, leading to steady growth, right? It can seem like an uphill battle to constantly attract new customers. So how do you keep sales up?
CUSTOMER RETENTION
To put it bluntly, you need to remind people you exist. Over & over again. Retaining your current customers & building on those relationships should always be a top priority. It's easier to attract one person & fill multiple needs for them than to keep attracting new people.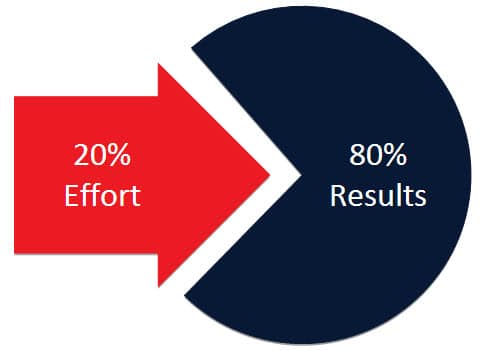 For a long time, the "80/20 rule" has been applied to sales in business. Also known as the Pareto principle, it's a theory that suggests that 80% of all output comes from 20% of all input. Translated to business terms – 80% of your sales are coming from 20% of your customers. 
Is that mathematically fact based? No. However, when planning where to focus your marketing efforts, it's a good starting point to identify what works, & where to put more energy into.
"At its core, the 80-20 rule is about identifying an entity's best assets, and using them efficiently to create maximum value."
For most consumers, once they find a brand, product, or service they identify with that fulfills their needs, they're unlikely to leave. One recent survey suggests "84% of U.S. adults are loyal to retailers and 82% are loyal to product-brands."
This means that over 80% of adults in the U.S. prefer to stick with their favorite stores & products. That feeling of loyalty can even keep people with you during uncertain economic times, when they might pull back on spending. Focus on building that kind of loyalty with your customers, with these 5 Great Ways to Remind People You Exist. 
1. MAKE AN ANNOUNCEMENT
Have you added new products or services to your repertoire recently?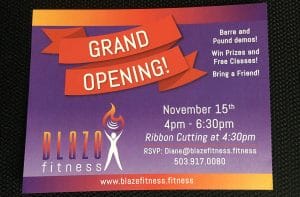 Has your organization accomplished a longterm goal?
Do you have something exciting coming up like an event, promotion, or community activity?
Tell everyone about it! Make an announcement to let people know what you're up to, what's changed, & (most importantly) how it could impact them.
Highlight how your new product/service is going to make their lives better/easier/more productive. Share how excited you are to have met a community goal with your donor's help – they should feel proud, too!
Creating shared experiences helps people feel connected to you. By keeping them informed, they feel in the loop. By including them in the celebration, you're sharing the success. Sometimes, just the fact that you've consistently communicated to people keeps them coming back.
Send it in the mail – Create a postcard, letter, greeting card, or other creative mail piece to send an announcement straight to your current mailing list. Or go bigger, & announce it to your whole area with a Targeted Saturation Mailing. Pick your zip codes, choose to mail to businesses or homes (or everyone!) & send your message to as many people as you want!
Send an e-Blast – E-mails are great for conveying quick bites of information, like an upcoming sale, or sharing a success story. In addition, e-mails have the added benefit of including links to lead people to more content, if they are interested.
Put it Online – Your website & social media pages are often the first things people go to when checking out an organization. Make sure you update them regularly with current info & photos of products, upcoming events, promos & sales, & any other herald-worthy news!
2. SEND A HANDWRITTEN NOTE
Sending someone a handwritten note, whether mailed or delivered in person, is still considered a meaningful gesture. It sends the message that you consider the person worth the time & effort. Especially if what you have to say is relevant, interesting, or useful to them.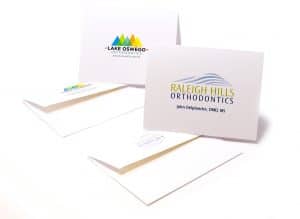 Some examples of things you might write in a handwritten note could be…
Thank You – showing appreciation for your customers is always a welcomed way to let them know you're still here.
An invitation – a handwritten invite to lunch or coffee is much more substantial than a casual text or email.
Happy Birthday – if you happen to know when a customer's birthday is, it's the perfect opportunity to connect with them over something non-business related.
Well Wishes – Just sending them a cheerful note wishing them well is a great way to remind people you exist!
To keep things professional, consider using customized cards with your branding on the front. Make sure your handwriting is legible, your contact info is there, & don't forget to sign it!
3. CREATE SOMETHING COOL
In professional marketing lingo, we'd say "develop a compelling creative campaign with captivating visuals & a relatable message." But essentially the idea is to make cool art that people like to look at, with your message baked in.
A great example of this is the recent Travel Oregon "Only Slight Exaggerated" campaign. These breathtaking animated ads feature real places & experiences in Oregon, with a "Studio Ghibli" feel that many people respond & connect to. The videos have enjoyed over 10 million views worldwide. People seek them out because they are just so cool to look at!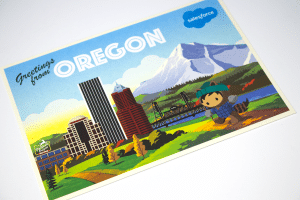 You may not have the resources to create a full 2 minute animated spectacle. But with the help of a creative marketing team & an in-tune graphic designer, you can conceptualize your own masterpieces to utilize in print, online, & on social media platforms. Show people an amazingly designed piece of artwork that speaks to them, & they'll remember you exist.
Check out this postcard example, designed by our friends at SalesForce, printed at AnchorPointe. The Portland-local scenery depicted in their brand's graphic style is both appealing to Oregonians, & adorable!
4. WRITE A SURVEY/POLL
The best way to know what your customers want is to ask them. Asking relevant questions is also a great way to remind people you exist. Most people like talking about their preferences & opinions. Get them to open up to you, & discover hidden elements to your success that can help you retain & grow your audience.
Send a survey via email, through the mail, or post it on your website or social media page. Consider what kinds of questions will give you the answers you're looking for, & what kinds of questions your customers will be interested in.
Filling out a survey or poll can be entertaining, too! Add some humor, use a casual voice, & keep it short enough to complete over an average coffee break. People will remember you for your wit, & for giving them something fun to break up the monotony of their workday.
Looking for more tips on how to make surveys a fun & interesting tool? Check out this article by Survicate. 
5. HOST AN EVENT
This may be the most grand gesture to remind people you exist. But curating an in-person experience for your customers to attend also creates one of the strongest impressions.
Hosting an event, either at your location or an offsite venue, creates ample opportunities to connect with people currently doing business with you. Bringing people together gives you invaluable time to ask them questions, listen, & develop a deeper connection with them.
Being in person also gives you the unique chance to show off your personality. Sometimes communications between professionals can seem stiff & forced. Being around your customers for awhile lets you break the ice, leading to more natural & comfortable communication.
Developing your own event also lets you set the topics of discussion. Position yourself as an authority in your industry by offering information to educate & empower others. They'll be more likely to think of you the next time they have a problem you've already offered them advice on. In addition, they'll walk away from your event feeling like it was a worthwhile, having gained valuable knowledge.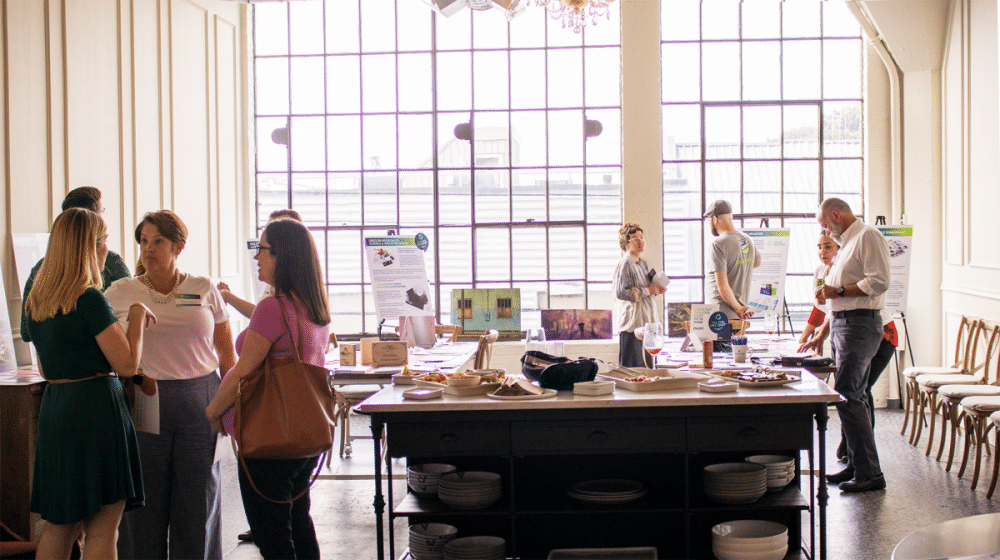 This past summer in August (2019) we held an AnchorPointe Open House in downtown Portland, where many of our clients are located. It was a fabulously fun time, & gave us great opportunities to talk one-on-one about everything from work-related projects, to exploring our capabilities & brainstorming possibilities with them. In the months after, our Project Managers have enjoyed having those shared experiences to draw on with clients. The event led to several closer relationships & new project ideas.
BE CONSISTENT
Use all of your organization's abilities to reach out & make connections with your current customers to keep them close. Consistently re-engage people with your brand in person, in the mail, online, & anywhere else they can reach you. The more times you start the conversation, the more likely they are to take action.
Keeping one customer is less expensive than attracting a new one. On top of that, repeat customers spend an average of 33% more than first-time customers.
Make customer retention a top priority by reminding people you exist on a regular basis!
Did you find this blog post interesting & useful?
Sign up for our short & sweet bi-weekly (that's every 2 weeks) e-newsletter to get more insightful info to help you with your marketing, sales, development, & creative project goals!
CLICK HERE TO SIGN UP (& print a copy of this awesome graphic for your office!)